Frequently Asked Questions:
Got questions? 
Here are some frequently asked questions we get here at the shop! 
Q: How do I purchase a Mario Guitar?
A: There are three ways to purchase a Mario Guitar:
Q: I want to get in line for a custom guitar, but I am worried about the cost. Do you offer financing? 
A: We make buying a Mario Guitar easy and affordable for any budget. To get a build started, we require a $500 non-refundable deposit. So, all you need is $500 up front, then you can make payments over the course of the build same as if you bought it in cash. No interest. No credit companies. No hassle. Of Course, if you choose to make no payments until the build is completed – that's fine as well – We're easy!
In addition, if you buy directly from us, you get an automatic 10% discount off of MSRP upon ordering as a thank you for your support — no mail in rebates, no extra steps!
Q: I own a storefront and would like to start selling Mario Guitars — do you have wholesale pricing?  How do I become a dealer?  
A: Yes, we do have dealer-direct pricing!  We currently have a dealers all over the world, but we are always looking for more!  Email sales@marioguitars.com or call Mario at 615.849.5800 to discuss dealer-direct pricing and receive our prospective dealer information packet!
Q: What neck shapes do you offer? 
A: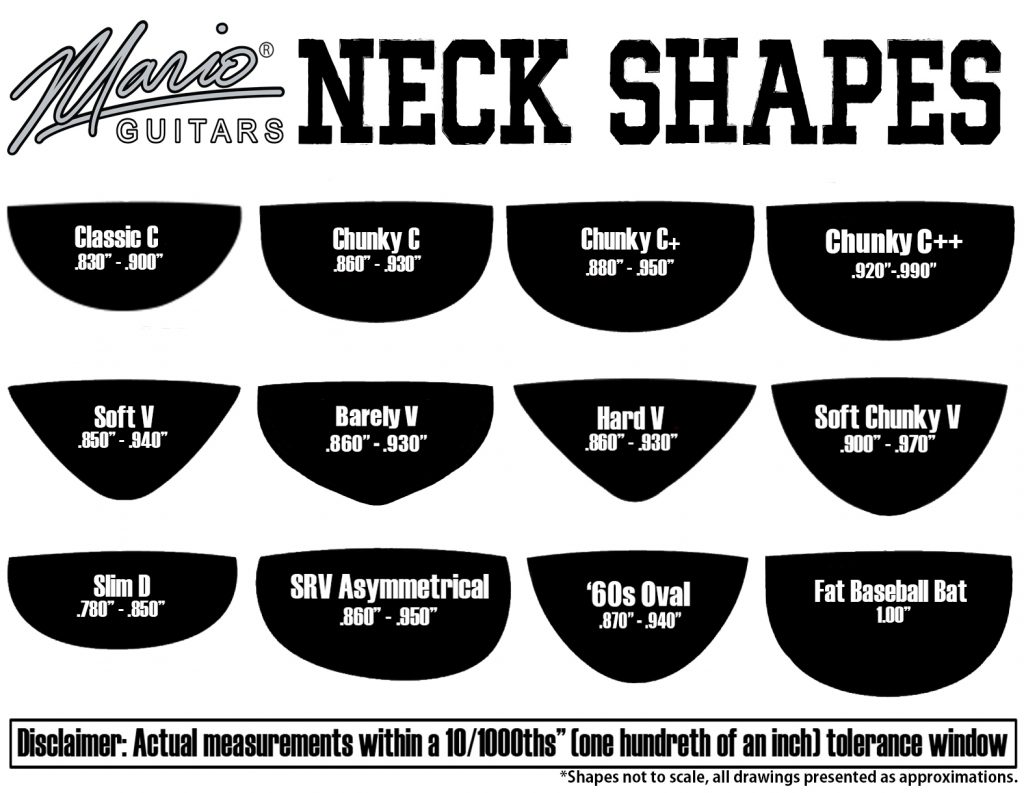 Q: What is the connection between Guitar Mill and Mario Guitars?
A: Guitar Mill has been a leading supplier of replacement electric guitar parts for over ten years now.  Our premium bodies, necks and nitrocellulose finishes are used by some of the best-known builders out there.  Mario Martin started Guitar Mill in 2005, and it has since been the go-to source for high end guitar bodies, necks and finishes . The "Guitar Mill Custom Shop," was formed in 2009 as a response to a growing number of requests for "fully built" custom guitars.  Feeling it needed a more personal touch, Mario named the new line of guitars after himself in 2011. Today, Mario Guitars and Guitar Mill continue to operate as two business under one roof —  both companies are working together to meet clients' specific needs.
Q: Why the Name Change?
A: This was a big decision for us to make.  With many years under our belt of a solid guitar building reputation, we did not want to alienate any of our customers or dealers.  At the same time, we knew from several years worth of feedback that people were loving our guitars, but many felt the name "Guitar Mill" on the headstock just did not seem to fit the same standard as the quality of the instrument.  Feeling it needed a more personal touch, Mario named the new line of guitars after himself.  So, as of February 2011, our premium instruments will now have a name that compliments the quality and care we put into each guitar.
Q: Okay, so what about the guitars out there that still say "Guitar Mill Custom Shop?"
A: Well, if you've got one – hold on to it!  One day it could be a collector's item!  That is our hope, anyway, and we will continue to work at building the best guitars we possibly can.  We will always stand behind the Guitar Mill Custom Shop guitars same as we would our Mario Guitars!
Q: What pickups do you guys put in your guitars?
A: We proudly use a variety of boutique pickup makers to compliment our guitars. Lindy Fralin, Jason Lollar, Budz, TV Jones, Mojotone and Porter go in most of our builds.  We have also started experimenting with Arcane, Curtis Novak and Mojo. We've had no complaints so far!
Q: If I order a guitar directly from you, will it come with a case or gig bag? How will my guitar be packed and shipped? 
A: We include a deluxe padded, embroidered gig bag with every Mario Guitar purchased. Most all of our customers, artists and dealers prefer our gig bags to hard cases because they carry the same amount of protection as a hardshell case, but are much less bulky and take up less room in a music room, tour bus or van. If you prefer to have a hardshell case, we offer TKL locking cases at the whole sale pricing of $100 added to the price of the build. 
In an effort to be as environmentally conscience as possible, our guitars are packed in recycled paper shredding. Though it is great for the environment, it can be a bit messy. So, we suggest unpacking your guitar on a hardwood floor and keeping a broom and dustpan handy. Our guitars are packed via Fed Ex and insured for the full value of the guitar. Always.
Q: Can I continue to make specification changes to my guitar after the order is placed? 
A: We understand that a certain option or spec. may come to mind following your custom order, and though we are willing to accommodate most of your last minute requests/ changes, we ask that no revisions and/or changes be made after 30 days from the date the order was placed. We feel that it is reasonable to possibly make some minor changes within the 30 day window, but after that changes to the original order can cause unnecessary mistakes and confusion.  
Q: What about returns?
A: Mario Guitars Warranty / Return Information
Q: I have a question that is not on this list!
A: Contact us! We are always happy to help people find the guitar that is right for them!
LEGAL DISCLAIMER : "Martin®" is a registered trademark of C.F. Martin & Co., Inc. of Nazareth, Pennsylvania, USA. Mario Guitars® is not affiliated with, endorsed, sponsored, or otherwise associated with C.F. Martin & Co., Inc.
LEGAL DISCLAIMER:  Mario Guitars® is in no way affiliated with, endorsed, sponsored, licensed by or otherwise associated with the Fender® Musical Instruments Corp. of Scottsdale, AZ.  "Tele®," "Telecaster®," "Telemaster®," "Strat®," "Stratocaster®," "Jazzmaster®," "Cabronita®," and "Thinline®" are registered trademarks of the Fender® Musical Instruments Corp.